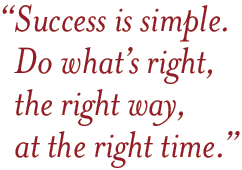 Success is simple. Do what's right, the right way, at the right time.
— Arnold Glasow, writer
We know that each organization and each challenge is unique, so we work with our clients to provide them with what they need, when they need it.
We can:
Create and implement a communications program from start to finish
Address a specific communications need
Support individual components of your existing communications program or campaign
Assist with an organizational change or program for a designated period of time
Serve as an extension of your team, providing ongoing counsel and support for as little (or as long) as you need
Our clients come to us for:
Let us know what your organization needs.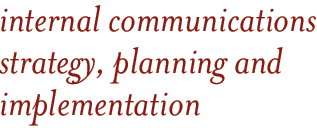 internal communications strategy, planning and implementation
Our experience in communication strategy, planning and implementation will help you create communication strategies and programs that will drive employee engagement, participation and business results.
We offer both strategic counsel and hands-on support, including:
Communication plan development
Key initiatives and program launches
HR communications
Strategy development
Executive and manager communication
Change communication
Merger and acquisition integration communication
Corporate events and meetings
Project management

content and message development
At the heart of any organization and any effective communications campaign is a story. We're passionate about helping our clients tell their story, and pride ourselves in creating clear, compelling content and messages that move people to action.
Using our design team or yours, we create and edit content for projects, including:
Communications plans
HR, benefits and total rewards communications
Positioning and messaging documents
Presentations
Emails
Print and electronic newsletters
Brochures
Posters
Web content
Communication policies and guidelines
Award entries

internal branding
Are your employees inspired by your brand?
We often think about a company's external brand, but internal branding is just as important. We believe in brands from the inside out.
The more inspired your employees are by your company, their group and the work they're doing, the better they will perform. We can help you with:
Brand identity development
Brand management
Internal branding programs
At Kesher, we have extensive experience both designing new internal brands and helping you create powerful connections between your brands and your employees.
design and web development
Kesher places almost as much importance on design as content. We believe that design is an essential element in ensuring your programs and messages are convincing and impactful.
Our work is unique, creative and engaging, and includes:
Graphic design
Logos and brand identity
Presentation design
Web design
Web development
Information architecture
Web collaboration and social media technology
We also have extensive experience working within existing corporate design frameworks and technology infrastructures.

research, assessment and measurement
You can't improve anything if you can't define it.
Listening is a powerful way to connect with your employees, and to learn about your organization.
Whether you're surveying the degree to which your employees understand your vision, values and mission or what was said at a recent town hall meeting; or you're assessing the effectiveness of a program, function or communication vehicle; we know that if you are an organization that takes action based on what you hear, you will have employees that are engaged and motivated, and a more effective organization.
We can provide:
Employee surveys and analysis
Focus groups
Interviews
Communication audits
Once we're aware of what's working and what isn't and the conversations that already exist within your organization we can make recommendations, and design the right communications strategies and programs that address the needs of your employees.

training, facilitation and meetings
Meetings – of any kind – can be valuable opportunities to share information, gather ideas, learn and build commitment; yet, their potential and importance are often overlooked.
At Kesher, we can help you design dynamic, interactive meetings that engage your employees and help generate the right conversations within your organization. We can also provide workshops and tools to train your staff and leaders at every level of your organization to communicate more effectively.
We can help you with:
Employee meetings, town halls and forums (face-to-face and virtual)
Workshop design
Facilitations
Trainings
Curriculum development
New hire orientations
Interactive training modules
Writing workshops
Next